Evolving GTM for insurgent brands Part 2
Digitisation of general trade will level the playing field e-commerce way
In Part 1, we looked at the Pyramid Playbook that insurgents use as their GTM. Going forward this pyramid playbook will change. Why? Because each layer of the pyramid is going to transform over the next decade. Internet will the driving force that will change the traditional distribution layer. We can see early signs of change with B2B e-commerce. The channel did not exist till about 2015, it is now fast emerging as an alternative to traditional distributors. As more technology penetrates the archaic distribution layers, newer operating models will emerge that will level the playing field for insurgent and incumbent brands.
One such interesting change playing out is the digitisation of kirana stores. If done well and at scale, the kirana digitisation will bring the e-commerce operating model to general trade. In this article we will explore what digitisation kirana will possibly unleash. So let's get started.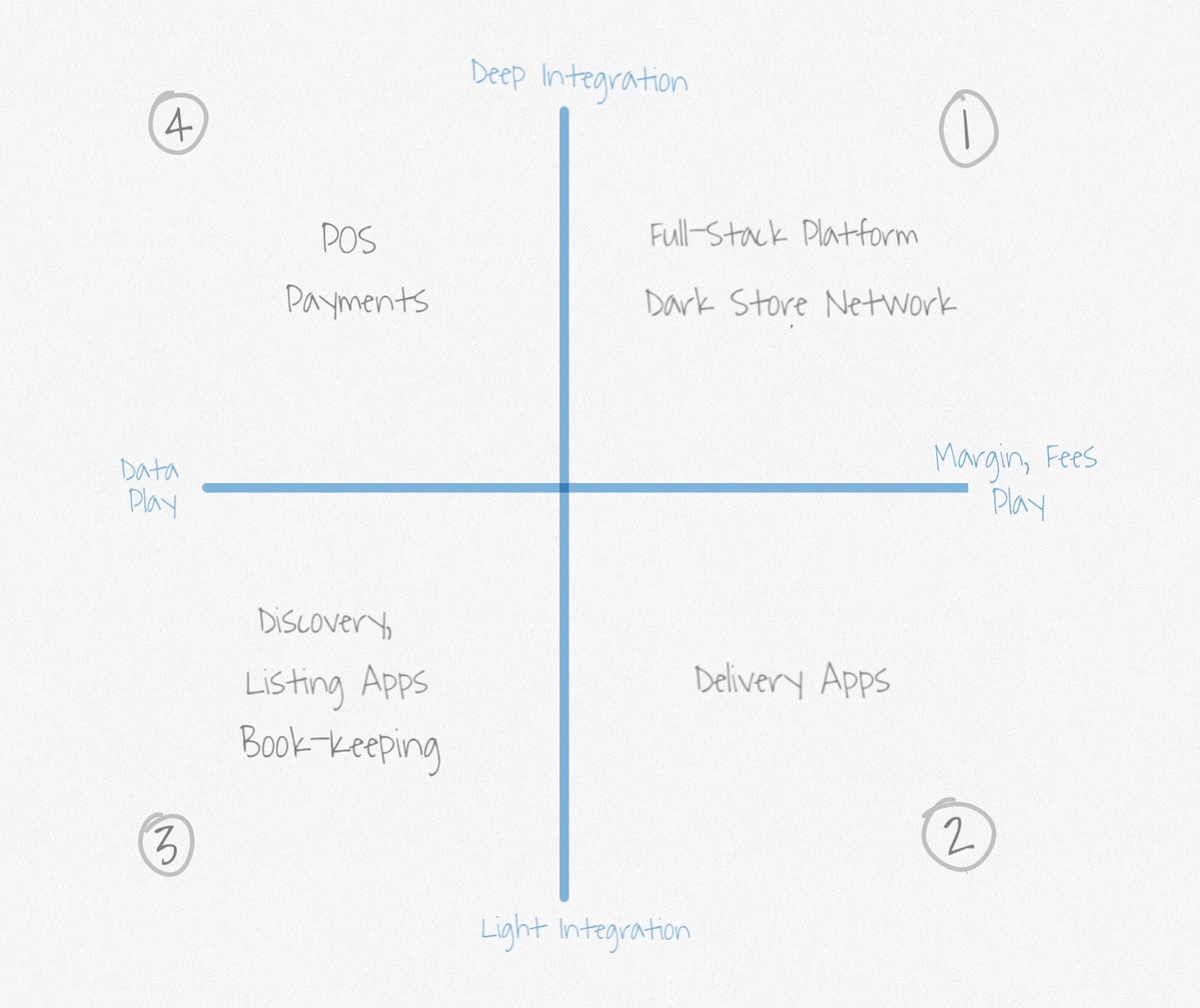 Caveats 😁
One. When we say digitisation, it means deep integration from POS to inventory. The current drive of deep digitisation began only in 2019. So, a lot of the discussions in this article will be exploratory in nature, more conceptual. Of course, we will use the evolution of internet commerce as a possible template to draw interesting inferences.
Two. 65-70% of the consumer basket at a kirana store is CPG products. So the current article is written with CPG brands in mind. For fashion, beauty and wellness brands e-commerce marketplaces and own web storefronts are leading channels of customer acquisition.
Seeds of Innovation: B2B e-commerce, Distribution-as-a-Service
There was no noticeable innovation in CPG distribution for decades until B2B e-commerce happened around 2015. Irrespective of how you analyse it, B2B e-commerce is seen as an alternative to the traditional distributor-stockist-sub-stockist model of CPG. B2B e-commerce is still young, but it has established a sizeable market in the kirana segment.
A B2B e-commerce player connects brands with kirana stores using online sales channel i.e., a mobile (at least in theory). The idea is to get stores to place bulk orders on the app, which are fulfilled by the e-commerce platform. But not everything has worked well, some players have deployed sizeable fleet-on-street to push sales (similar to traditional distributors) which increases the service cost. Beyond product sales, the B2B players use data to push credit and other products to the stores which might bring additional revenue and better margins.
Why B2B e-commerce is useful for insurgent brands? Well, the B2B platform has already built a kirana-level access infrastructure. The incumbent brands use it, so why not insurgents? For a B2B player the marginal cost of serving young brands is not very high so working with them is no-brainer. Few players have dedicated programs for insurgent brands. For instance, Jumbotail gas designed a program for insurgent brands. For incumbent brands, Jumbotail insists on receiving orders via its app. Still, the platform has deployed a small fleet-on-street to help insurgent brands test and build general trade distribution. Once the sales of the insurgent brand reach a critical mass, they are moved to the app-based sales. Jumbotail use it's data on store chart out the best possible stores that align with brand values and target customers of the insurgent.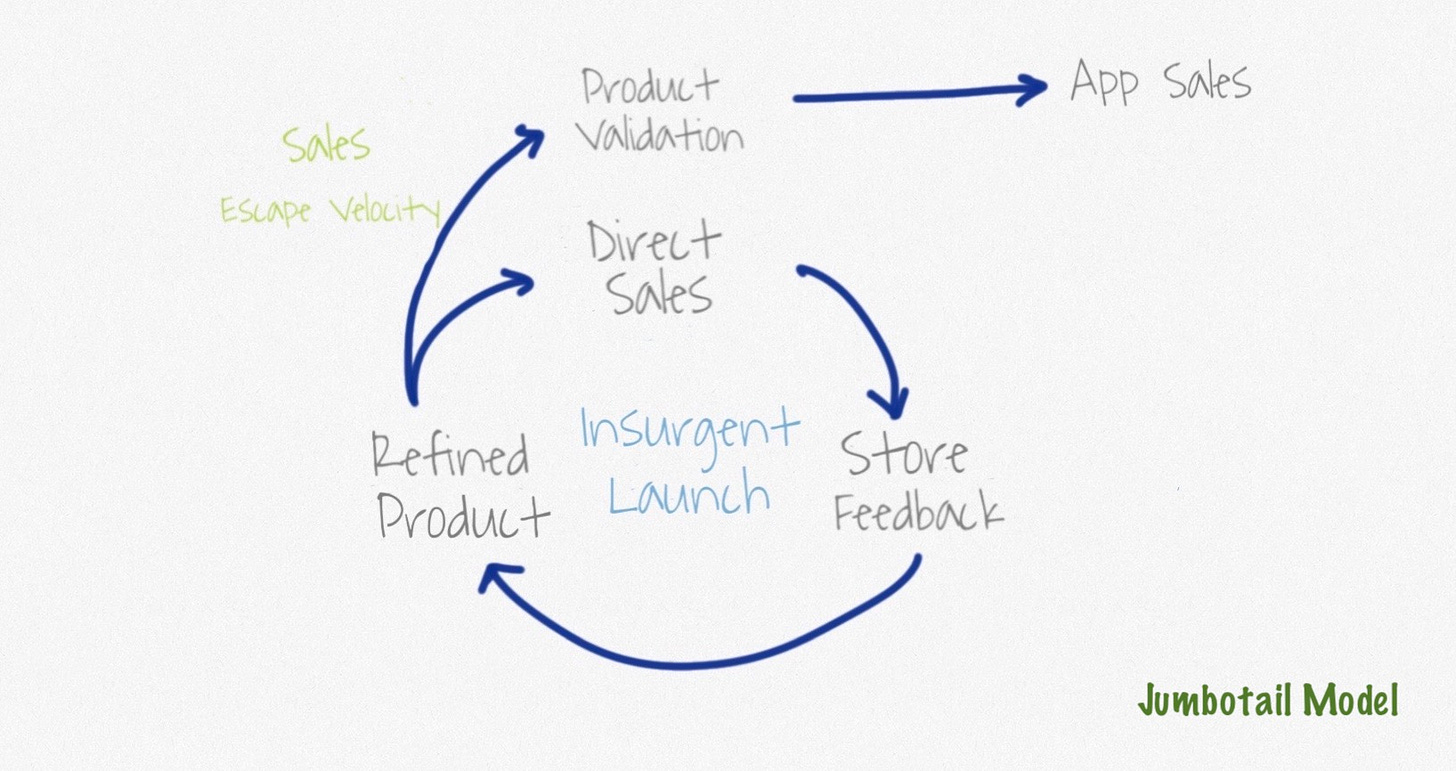 For insurgent brands, B2B e-commerce is a good channel to test the general trade market. Insurgent brands can save the time and money spent on evaluating and on boarding distributors early. Of course, the commercials offered by the B2B platform have to be attractive enough for a brand. Anecdotal evidence suggests that B2B e-commerce platforms are keen to work with insurgents and may offer better terms. We don't have detail on this yet.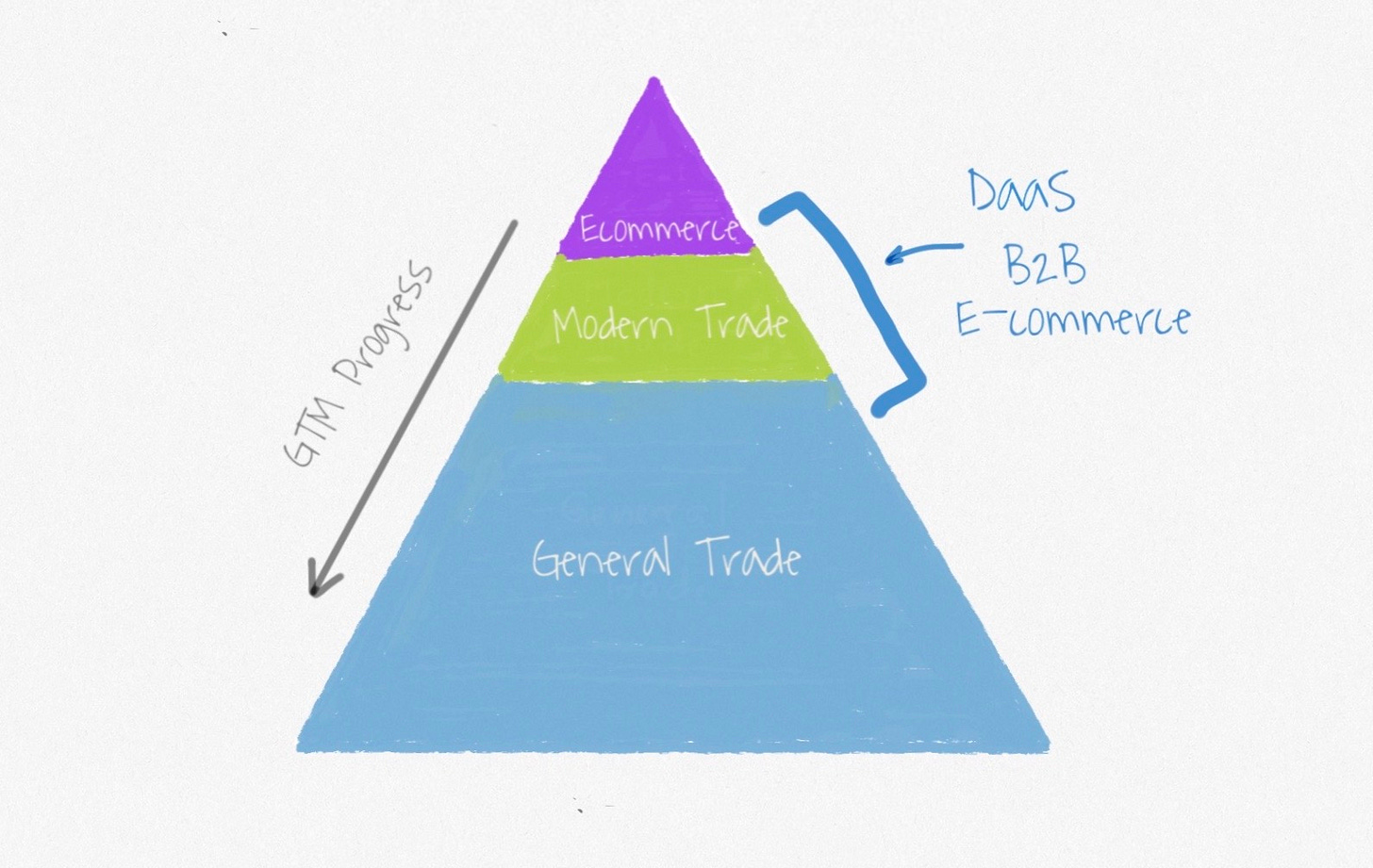 Distribution-as-a-Service
Parallel to B2B e-commerce, there is another innovative model taking shape, Distribution-as-a-Service (DaaS). We have players such as Dartss, Anka SuMor, Sancus Networks operating in the space. DaaS players address the same access to distribution lacunae but operate a model that is similar to the traditional distribution. What is differentiation? DaaS operators have modelled their operations to suit insurgent brands. But some DaaS operators work with incumbents too.
What value proposition do the DaaS offer an insurgent brand? Well, it offers the same convenience offered by B2B e-commerce - a connect to multiple modern trade chains, kirana stores but just a single point of contact. DaaS eliminates the operational complexity of dealing with multiple distributors. The DaaS manages distribution in multiple regions.
For a DaaS to work well, it needs a wider portfolio of brands and some of the brands have to be hits. A portfolio allows the DaaS to spread the costs across multiple brands, reduce the distribution costs for every brand in the portfolio.
The DaaS operators work on some sort of revenue share agreements with brands. DaaS is great way for insurgent brands to explore the general trade before making additional investment in their own infrastructure.
Operations Still Data Opaque
Unlike e-commerce, both B2B e-commerce and DaaS do not capture the sell-through data (data the tells a brand what the customers purchased from the store). Capturing this data is expensive and whatever data available is usually guesstimates or noisy. The traditional distributors have the same problem too, this is after investments in distribution management systems by brands.
Access to sell-through or POS data is gold, but the current models don't have access. So what next? Get access :) and hence we see a string of full-stack digitisation POS to inventory playing out in the market. Digitising kirana will mean access to the physical shelf-level data and this will transform general trade.
Future: Digital Kirana Stores
We have been hearing about how 20-22% of kirana is digitised, but what we don't hear is that this is mostly POS, card payment terminals, and mobile payments. It might be appropriate to call this light digitisation, if anything. Value-add of such light digitisation is limited. What we are looking for is deep, full-stack digitisation - everything from inventory, shelf, to POS is tracked. Impossible? Few companies have already embarked on this journey - Jumbotail, Reliance B2B (through JioMart), Ninjacart, Grofers (a B2C player) and new entrants such as Behtar Stores, Express Stores, Gully Network and Shop Kirana. We see JioMart making the headlines, while others are executing quietly.
Side Note: Small store, kirana-like chain is not a very new concept. We have seen the rise and fall of Subhisksha between 2004-2010. Times and models are different but we all have an example of what not to do in small-format i.e., kirana retail.
Yes, deep digitisation is hard, and it might take a good part of the next decade to make meaningful progress. If the digitisation drive covers few million stores stores, then we might have e-commerce channel in the offline world. By e-commerce-like means, the trade interactions between brands and stores will become programmable, stocks (selection and quantity) will be customised for each neighbourhood, trade offers will be personalised. Let's explore the possibilities, but before we get there, look at the digitisation landscape for kirana.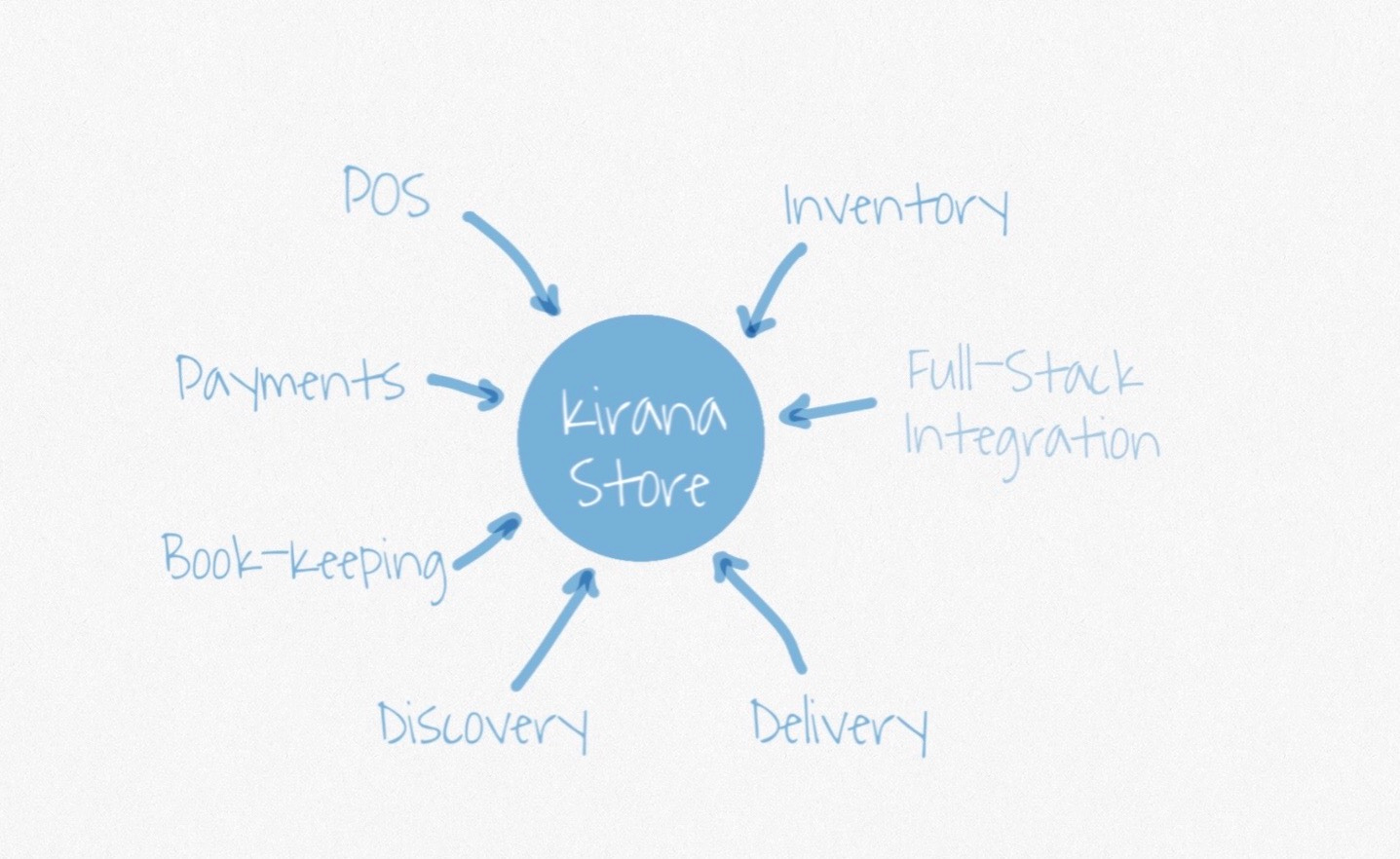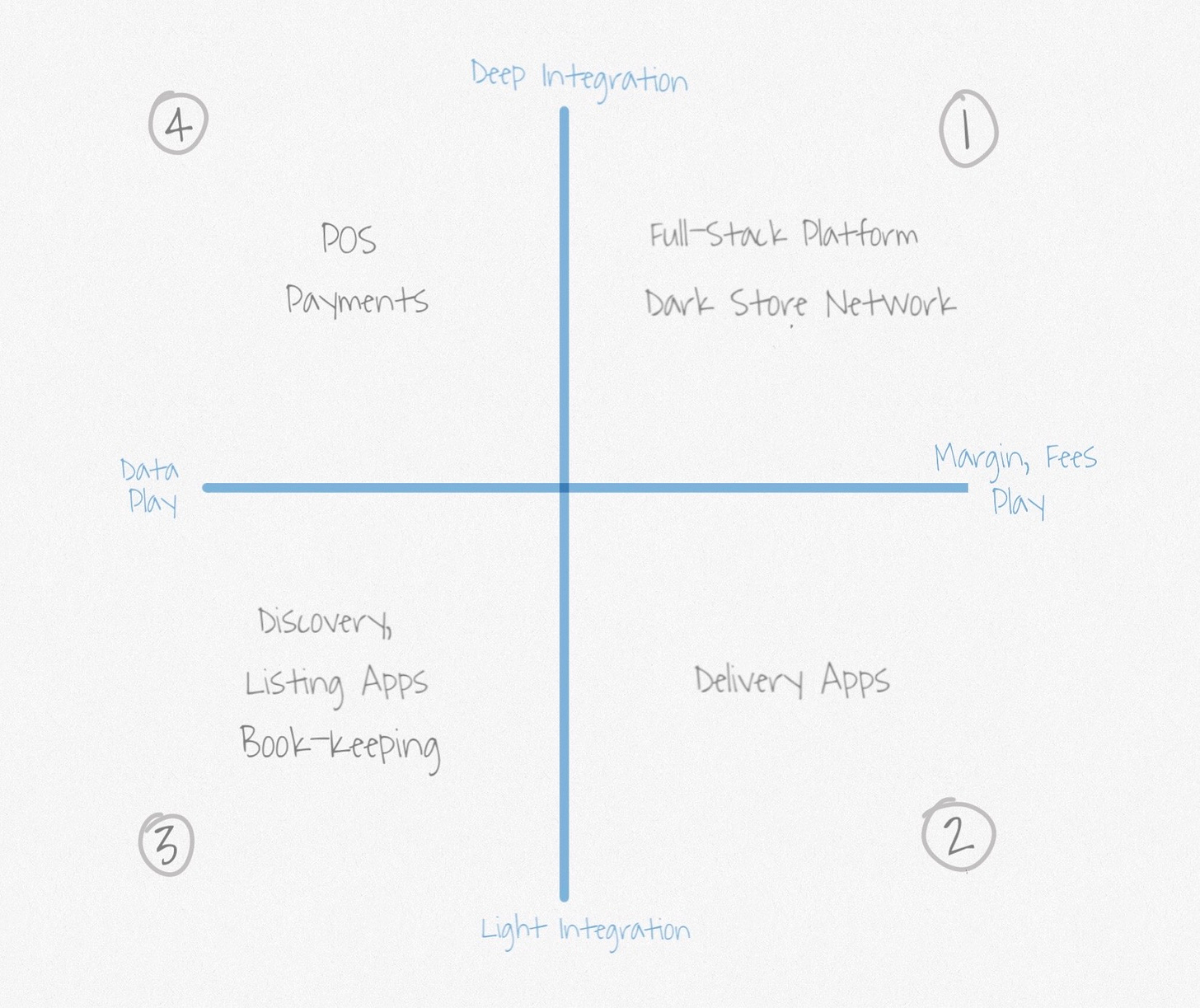 [2],[3] and [4] are very interesting segments with interesting players. Still, for the current discussion, we will focus on [1] Full-stack Integration - Co-branded stores which become part of an aggregator B2B platform such as JioMart, Jumbotail, Grofers.
Side Note: Delivery apps helped consumers a lot during the lockdown period, but it was still the local kirana store that generated direct phone-order business. The delivery apps can integrate deeper, e.g. Swiggy with its dark stores, but capital intensive nature of the business may deter participation. In the long-term, discovery apps are the least likely to add meaningful value to the kirana stores. Why? Because the geography of operation for a store is already set - the store will not make delivery in areas farther away from the store. Moreover most kirana store owners are content with the current customer base. So what's the point of over-selling to the existing customer base? One argument put forth in defence of discovery apps is wider selection leads to increased order size. Possible, but will it bring enough additional value for the store to divert traffic to an app? Debatable.
Full-Stack Integration - Co-branded Stores Platform
In this model, the platform operators such as JioMart, Jumbotail, Grofers provide full-stack support to the store - inventory (brand and private label), display, POS and other benefits such as inventory management, access to offers etc. The store owner brings risk capital and human capital to the table. Advantages of partnering with a platform - improved revenue and margins due wider product selection, better fill-rates, private-labels with better quality and price, improved inventory management and better customer experience.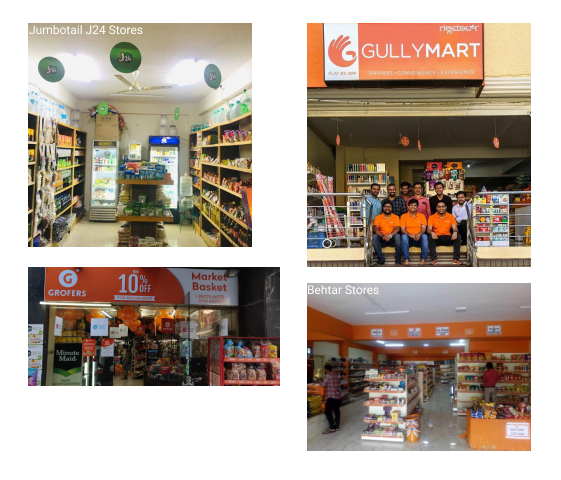 Side Note: During the latest Annual General Meeting, Reliance gave a glimpse of how JioMart goes completely remodels a store to make it a self-service store. Interestingly, the remodelling is done in 48 hours.
Full-stack digitisation seem hard, is there an asset-light approach? Sure models in [2], [3] quadrants are interesting. But if we look at the last decade only inventory-led models seem to work. Remember PepperTap and its "asset-light" model? While PepperTap shut operations peers such as BigBasket, Grofers (moved to inventory-led) are still active and growing fast.
Ok, then how does this deep, full-stack integration help? Well, it allows the operators to influence (platform gains) the retail shelf and monetise (both platform and kirana store gain) it better. The retail shelf is the moment of truth for a brand. If we can use technology to capture data at the shelf-level, then it opens up many more non-margin revenue opportunities. We all know that retail margins are wafer-thin, so any non-margin revenue is always welcome. Look at Amazon (earned $80 million in 2019-20 from seller services), and Flipkart both have sizeable seller service, advertisement revenues. Does this number look small? To put things in context, CPG brands spend $0.9 - $1 billion each year as trade investments. If we can divert some of the ATL investment to shelf, this number will only rise.
Side Note: In this article and even in Part 1, we spoke about how selling via e-commerce marketplace is programmable. Do we think of having such online-only concepts in the offline world? Well, a little bit of imagination is required. You have to think of a kirana store as a web page 😁.
You may not believe, but everything piece of real estate in a physical store can be monetised just like e-commerce. Here are some examples of monetisable areas: shelf at eye-level, aisle ends, checkout counter, promotions stickers and promotion material. Large listed brands spend at least 50% of their marketing budget on such activations at the shelf level. Guess what, it's not possible to calculate any ROI for this investment.
Broadly speaking, there are two types of kirana stores: self-service and counter. Self-service stores (like Pinterest, Facebook) are browsable and allow the retailers to offer multiple brand-consumer interactions. Each interaction can be a revenue opportunity. Consequently, a self-service store may have a higher average order value.
Counter stores (more like Google Search) works better for intent-driven purchases. You want a certain product, so you ask the person at the counter, you either get the product or the shopkeeper recommends an alternative, or you just walk away with nothing. In a counter store, not many brand-consumer interactions are possible. The whole interaction happens at the checkout counter.
Note, JioMart remodels the kirana using the self-service design.
Digital Kirana, Possible Revenue Streams
We are in deep into the exploratory mode here 😁. Here are some of the revenue streams built on top of digitised kirana layer. We will divide them into both non-margin and margin revenues sources. Here we go.
Advertisement and Placement Revenues [Non-margin]
Shelf interaction is the moment of truth for the brand, the customer is considering a purchase, so reinforcement and availability matters. Platforms can sell advertisement at the store, shelf level and track performance. A brand can utilise the data to refine campaigns and allocate marketing spend accordingly.
Data such as store profile, estimated walk-ins, order count, store geo-location, customer profile etc. will allow brands to make informed, traceable decisions. We can bring the terminology of traffic, conversion ratios etc. offline.
Programmatic Trade Promotion Investments + Loyalty Programs [Non-margin]
CPG brands in India spend $0.9 - 1 billion every year (and growing at 8-10% y-o-y) on offline trade promotions - discounts, BOGO etc. Today it is hard to measure the outcome of such campaigns. Still, with data (similar to used in an advertisement), these initiatives can be tracked and evaluated. Where does the platform make money? Fees to facilitate this transaction. Of course kirana is beneficiary here as well.
How is this helpful for brands? Customise campaigns by neighbourhood, make better estimates of ROI.
A loyalty program that can be utilised across multiple stores, multiple cities will enable brands to personalise offers and promotions.
Micro Fulfilment Services for DTC (Store + Deliver) [Non-margin]
The kirana stores have excellent reach into residential neighbourhoods, platforms can convert part of storage capacity into a micro fulfilment centre.
Insurgent brands are keen to set up DTC operations, and offering a fulfilment service can enable platforms to participate in the channel. Platforms can enable brands to stock their products based on historic performance and deliver products to nearby customers in less than 90 minutes.
For DTC to succeed, India needs an efficient fulfilment network. Who better than kirana stores to do it effectively?
Financing [Non-margin]
All the rich data on sell-through, inventory movement can be used to offer working capital finance and attractive rates to the kirana stores. With limited credit risk, another good source for additional revenue.
Personalisation [Margin]
Platform and brands can use data to customise the stock selection and stock levels for every neighbourhood. For instance, selection in kirana stores in affluent neighbourhoods will be different from LIG neighbourhoods. Not only stock, even the trade offers, discounts can be personalised and tracked effectively. It is possible to gradually increase the quality of decision-making at granular levels.
Private Label [Margin]
An average kirana store owner is quite smart and aware that private label means higher margin. A sizeable share of kirana products is private label. A platform can also offer it's private label as a reasonable price to shore the brand value of store brands.
Insurgent Brands and Digital Kirana
So how does digital kirana help insurgent brands? If we look at current GTM, kirana is the last bastion for insurgent brands. Sure, DaaS players also provide access to kirana stores but going forward DaaS cannot be the only channel. What a digital kirana enables is access to the biggest market with tools similar to online e-commerce. Insurgents could possibly reduce the time it takes for them to build an omni-channel brand by at least 3-4 years.
Good news for insurgent brands is that its unlikely there will be a single winner. With multiple operators, insurgent brands can work with operators who offer the best customer and brand alignment. Similar to working with multiple social channels such as Facebook, Instagram etc.
Programmable advertisements, trade promotions and quality data put them almost on the same footing as an incumbent.
But is this all that easy? No.
Come to Nought
Exciting as the possibilities are, everything will come to nought if the kirana store owners refuse to partner with platform operators. Often store owners are satisfied with their business and do not want to grow any further. Many store owners just don't trust platforms and do not like transparency brought about by the digitisation.
That said, there will be a segment of store owners who may sign-up for deep digitisation early-on. Hope this number goes into millions. The onus now on the platform to build in enough incentives to onboard the stores - platforms may have to do away with things like upfront fees, rent for hardware etc.
The other constituency that would prefer the status quo is the incumbent brands. Incumbents have spent time and capital building a strong distribution. Distribution is their moat and they would not want to see it go away. In fact, many kirana stores might not join platforms and prefer working with traditional distributors to maintain old relationships. It's true.
Incumbent brand are not to underestimated, they will to disrupt their own distribution if required to build a new moat. Consider this play from P&G's - the company launched their DTC web store www.pgshop.in - what's special? fulfilment of orders is managed by one of P&G's distributors. Although this is an experiment, but it gives you glimpse of what is possible. Like the kirana stores, traditional distributors are not going anywhere. How the distributors transform in the future will be an interesting study.
Both the kirana and incumbent brands are strong forces which can impede the growth of platform-led digitisation, aggregation of kirana. So, general trade will be the space to watch out in the next decade.
Closing
Digitisation of the kirana is an exciting play, every retail shelf programmable is a powerful idea for Indian retail. If the digitisation demonstrates some early success, India might force even Amazon to go kirana.
It's hard, but even if we see a widespread onboarding of kirana stores onto to aggregation platforms, no single platform will emerge dominant. JioMart has capital and execution muscle, but the market is just too big for one company to control a full market. We may see 3-4 contenders emerge.
Good news for insurgent brands is that playbook may suit them in the future the playbook is changing for good.
---
How did you feel about this post?
Please feel free to write with more feedback and suggestions. You can write to insurgentbrandnews[AT]gmail[DOT]com